901 HAIR SALON & BOUTIQUE
Welcome to 901 Salon and Boutique! We are a team of senior stylists and we specialize in beautiful hair! In our Hair salon, we take the time to understand your unique needs and preferences, ensuring that you leave our salon feeling gorgeous. We use only the highest-quality products and techniques to make sure that your hair is done to perfection. Come and experience the difference at our hair salon and leave feeling your best!

The owners and siblings Steve and Ly Thongdara have over 60 years of combined experience in hair styling. This expertise coupled with their attentive customer service make every client feel comfortable and welcomed. Come experience our hair salon today!

Hair Stylist and MakeUp
Steve is a stylist and make up artist with over 35 years of experience.
Hair Stylist and Jewelry Designer
Expert hair stylist with over 25 years of experience. Ly is also a talented jewelry designer.
For your convenience, we carry your favorite hair products from Farouk Chi products with ammonia-free color & lightening systems, ColorProof, Pai-Shau, Matrix, Paul Mitchell, Aquage, Biolage, Nioxin, Biosilk, Rush. You will also find exclusive Cosmetic and Skin Care Products by Seacret – Minerals from the dead sea.
HAIR SALON SPECIAL OFFERS
Coco - Yelp Review
Customer
Went in for an ombre for my spring hair.
I spoke to steve and he gave me a natural ombre with NO BLEACH. My hair was so smooth and not damaged.
🙂
Tanongkiet T. - Yelp Review
Customer
They provide very welcomed and kind service. Price is reasonable. And the hair style is great!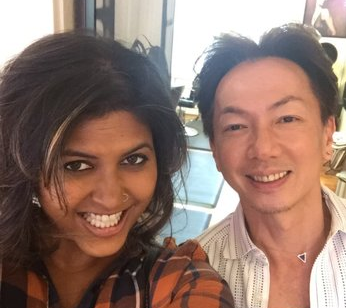 Ekta K - Yelp Review
Customer
Love love love this place. I have a new spot! I have extremely thin fine hair and Steven did an amazing job with it!
Denise De La Cruz - Facebook Review
Customer
Steve and Lillie are so talented with color and style! I always get so many compliments on my hair… And my kids love the cuts and treatment they receive!
Yelp Review - Cynthia W.
Customer
Best cut that I have had in Houston, especially for the price.
I have fine hair that requires frequent cuts & am tired of spending $ 65-80 dollars for a simple cut.
Yelp Review - Carter S.
Customer
This salon is incredible! Steve and Lilly have done my engagement photo hairstyle, haircuts, and color and they are just amazing! Steve knows exactly how to do my hair for it to look amazing!
Yelp Review - Stephany C.
Customer
"Lily did my service and it was quick and relaxing from beginning to end."
Yelp Review - Austin S.
Customer
"Steve knew just how to cut my hair to give it a great shape that's both looks good and is manageable."
Google Review - Rolando Rodriguez
Customer
"Fantastic Steve and Lily are the best and the nicest people , beautiful jewelry and fantastic hair appointment! Will be going here for a long time"
Google Review - Rolando Rodriguez
Customer
This is a very nice salon! I really enjoyed how they treated me there and my blonde highlights look very cute and natural.