Women's Hair Cut & Shampoo Long
Bound hair was felt to be symbolic of propriety: loosening one's hair was considered immodest and sexual, and sometimes was felt to have supernatural connotations.
Service Cost : $75+
Duration : 1hr

901 Salon & Boutique - Voted Best Hair Salon in Montrose, Houston!
STEVE THONGDARA
Hair Stylist and MakeUp
LY THONGDARA
Hair Stylist and Jewelry Designer
Coco - Yelp Review
Customer
Went in for an ombre for my spring hair.
I spoke to steve and he gave me a natural ombre with NO BLEACH. My hair was so smooth and not damaged.
🙂
Tanongkiet T. - Yelp Review
Customer
They provide very welcomed and kind service. Price is reasonable. And the hair style is great!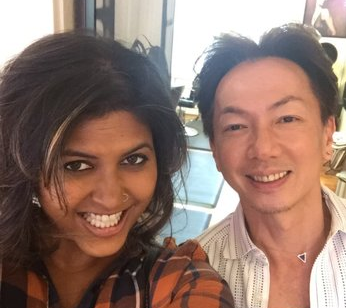 Ekta K - Yelp Review
Customer
Love love love this place. I have a new spot! I have extremely thin fine hair and Steven did an amazing job with it!
Denise De La Cruz - Facebook Review
Customer
Steve and Lillie are so talented with color and style! I always get so many compliments on my hair… And my kids love the cuts and treatment they receive!
Yelp Review - Cynthia W.
Customer
Best cut that I have had in Houston, especially for the price.
I have fine hair that requires frequent cuts & am tired of spending $ 65-80 dollars for a simple cut.
Yelp Review - Carter S.
Customer
This salon is incredible! Steve and Lilly have done my engagement photo hairstyle, haircuts, and color and they are just amazing! Steve knows exactly how to do my hair for it to look amazing!
Yelp Review - Stephany C.
Customer
"Lily did my service and it was quick and relaxing from beginning to end."
Yelp Review - Austin S.
Customer
"Steve knew just how to cut my hair to give it a great shape that's both looks good and is manageable."
Google Review - Rolando Rodriguez
Customer
"Fantastic Steve and Lily are the best and the nicest people , beautiful jewelry and fantastic hair appointment! Will be going here for a long time"
Google Review - Rolando Rodriguez
Customer
This is a very nice salon! I really enjoyed how they treated me there and my blonde highlights look very cute and natural.